T&F Iron Works is proud to be CWB certified. Our team always provides high quality, industry standard work to our clients. You can rest assured our team is well trained to handle your job.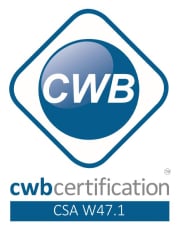 If you would like us to contact you as soon as possible, please fill out the form below.
We at T&F Ironworks Ltd are proud to inform, we are a North Vancouver based CWB certified metal fabrication company formed by an industrial design engineer and a civil engineer.